Empowering Children With Friendly Competition!
The Juniata Valley YMCA nurtures the potential of children through the youth sports programming by strengthening character in our youth, engaging families, and buidling lasting relationships.
Participants in these programs develop skills, learn about teamwork, and focus on sportsmanship. They set individual and team goals, building confidence, increasing self-esteem, and improving physical conditioning. Youth will have the opportunity to learn social skills and establish healthy habits that can last a lifetime. There are even opportunities for family involvement through volunteering as coaches, team parents, and committee members. 
BASKETBALL
Our Y has two full sized basketball courts to use for just shooting around, playing pick-up games, or hosting leagues throughout the year!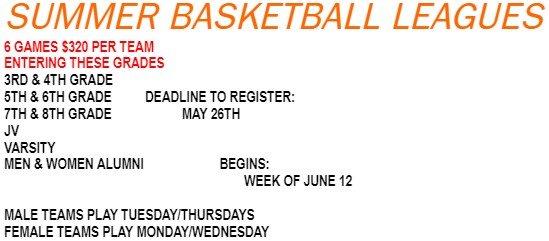 RECREATIONAL GYMNASTICS/TUMBLING  
Beginners' rec tumbling/gymnastics classes are a movement educational class that provides progressive instruction in the basics of gymnastics. We offer classes on two different days. You can be in the Monday night class or the Tuesday night class. Gymnastics will run in six-week sessions.
WILL BEGIN IN SEPTEMBER 2023
Rollers—Ages 4-6           6:00-6:45pm 
Swingers- Ages 7-10      7:00-8:00pm
*Call in at anytime to inquire when the next session begins.
JELLYBEAN TUMBLING CLASS
The Perfect activity for children 18 months old to 3 years old to teach the basics of tumbling/gymnastics. This program runs for six-week sessions. An adult must accompany the child and be active with them throughout the class.
MONDAYS FROM 5:15-5:45pm
WILL BEGIN IN SEPTEMBER 2023
YOUTH REC BASKETBALL LEAGUE
This is a recreational, FUNdamentals league for both boys and girls. This This league is for boys and girls and is divided into the following age groups:
- 4-year-old, Kindergarten, Grade 1
- Grades 2 & 3
- Grades 4 & 5
- Grades 6, 7, & 8
This league practices one time per week and plays games on either Saturday or Sunday. Price includes a team shirt for every child.

WILL BEGIN IN OCTOBER 2023
ELEMENTARY COMPETITIVE BASKETBALL
Competitive Basketball League is TEAM registration only. Teams will play games for 6 weeks on Saturday between 8:00am-4:00pm or Sunday between 1:00-6:00pm.
Divisions:
Girls 3-4th Grade
Boys 3-4th Grade
Girls 5-6th Grade
Boys 5-6th Grade
WILL BEGIN IN JANUARY 2024
JUDO/JUJITSU- Join this class at any time
Judo is a modern Japanese martial art. Judo is held on Monday evenings. Sensei Dave will be instructing this class. Contact the Y for pricing as it varies monthly depending on the # of Mondays in the month.

Ages 6-9 meets Mondays from 7:00-8:00pm
Ages 10+ meets Mondays from 7:00-8:30pm
KARATE - Join this class at any time
Karate is a martial art developed in the Ryukyu Kingdom. Karate is held on Tuesday nights. This class is led by Sensei Joe. Contact the YMCA for more pricing as it varies each month depending on the # of Tuesdays in the month.
Ages 6-12 6:00-7:00pm
Ages 13+ 7:00-8:45pm
INDOOR SOCCER
Our soccer classes and teams, led by encouraging and supportive coaches, offer kids a great place to learn skills, improve coordination, and encourage fair play, positive attitude, and teamwork!
Ages 4 & 5
Ages 6,7, & 8
Ages 9, 10, & 11
WILL BEGIN IN FEBRUARY 2024
INDOOR ROCK CLIMBING
We have the biggest rock-climbing wall for miles!  In the winter, come in for open climb nights on Monday from 6-8. There's routes for every level climber!

Open December-March
Every Monday night from 6:00-8PM

(depending on attendance)




Note: climbing wall follows the school schedule.  If school is closed the climbing wall is closed.